Script Consultancy Service
I am a trained script consultant and editor and read for organizations such as Initialize Films, Euroscript and the New Producers Alliance as well as private clients. I've read not only for students and non-professionals but also independent producers and directors and I am currently consulting on a feature film due to go into pre-production in 2012.
I offer a range of services and I guarantee to send a script report back to writers within two weeks for those choosing my 'script editing' option.
"Will's script analysis is incisive with an excellent grasp of the dynamics of character, structure, theme and genre. He is thorough and his assessment of the script in commercial terms is particularly helpful. I felt Will provided excellent value for money and an intelligent appraisal of my script."
Penny MacLeod, Screenwriter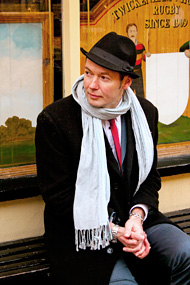 "Will has a facility for clear thinking which allows him to pinpoint the weaknesses in a script but he does so in a way which is both constuctive and encouraging. His report was detailed and honest and highlighted both the aspects of the script that were working well and those that needed attention. Having absorbed his professional and helpful notes I felt positive and well-equipped to tackle the next draft."
Diana Townsend, Screenwriter
"Will has a great way of  offering the right things to be considered in moving ahead with your screenplay/writing. He led me to thoughts of relevance, which I guess is fair to say is exactly what I needed. He's a good soul with a good eye for assisting the unravelling of story, characters and plot. I highly recommend the talented Mr Dingli."
Simon Caira, Writer/Director
Whether writers need a one-off report with a follow-up meeting, long-term consultancy in getting their screenplay ready, or script doctoring, I can offer several distinct services.
I welcome scripts and indeed other work (including treatments, synopses etc) sent via email.
Option 1: Script Editing
This entails a detailed 4-5 page report on each new draft produced by the writer followed by a one to one meeting to discuss the reports. I provide a broad overview of the writer's work and any questions it might raise in terms of story, character development, characterization, structure, theme, genre and dialogue so they may see how an objective reader (such as a producer or agent) sees their work. My objective with regard to script editing is to get the script 'industry-ready' within a specified time-frame to be agreed with the writer. If it's a short film, there are special rates available depending on need. I can offer competitive rates on overview reports and one-to-one's.
Please email me for a quote.
Option 2: Mentoring
This is half-way between editing and doctoring, a kind of script-editing plus. It entails an initial report followed by detailed workshopping of all aspects of the screenplay, including forensic character development where we analyse each character's emotional arc on a one to one basis, taking the writer through every step of the process in a series of meetings. The writer then goes away and writes a draft concentrating on the aspects we've discussed. I then produce a second report and we have another series of meetings to discuss this and try to achieve two things: a) to judge the success of the latest draft and what further work needs to be done and b) to move onto the next stage which could include two or three of the following: pacing, structure, story, characterization, genre analysis and dialogue. We then repeat the process, with the writer focusing on making the necessary improvements to the previous version and moving onto the next stage. The great advantage of mentoring is that the intense workload allows the script to become 'industry-ready' more quickly than script editing on its own. This is ideal if, say, the writer needs to get it right within one to two months. Again, I can offer competitive rates.
Please email me for a quote.
Option 3: Doctoring
Doctoring is where I undertake to do the re-write myself in consultation with the writer and (usually) the producer, within a specified time-frame for an agreed fee. In return for the fee I would forego any credit for the actual re-writing. This is a useful option when time is very tight and/or the writer feels that he or she has taken the script as far as they can and the project would benefit from the direct input of another professional screenwriter.
As with the previous options, I offer highly competitive rates and am happy to provide a quote.